Those Places Thursday: 1904 St. Louis World's Fair Souvenirs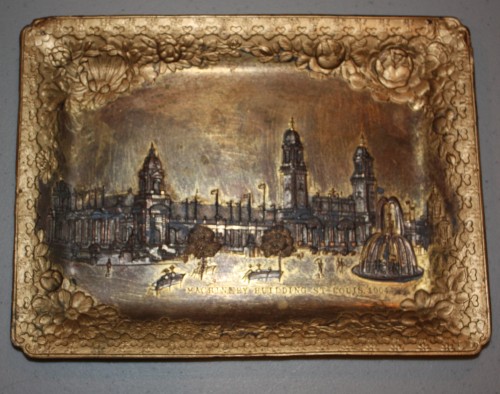 Trays and plates were common and popular souvenirs of the 1904 St. Louis World's Fair. These could be displayed on a bric-a-brac shelf, used for mints or candies, or placed on a dressing table, where the owner would be reminded of the enjoyable time they had at the Fair.
(Again, I apologize for the quality of the pictures.)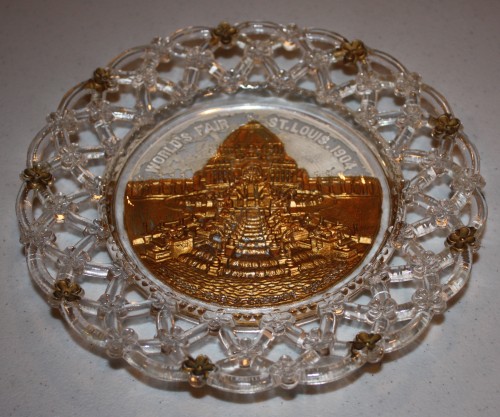 Yes, this is really called 'Goofus Glass." Here is the reverse, so you can see the painting: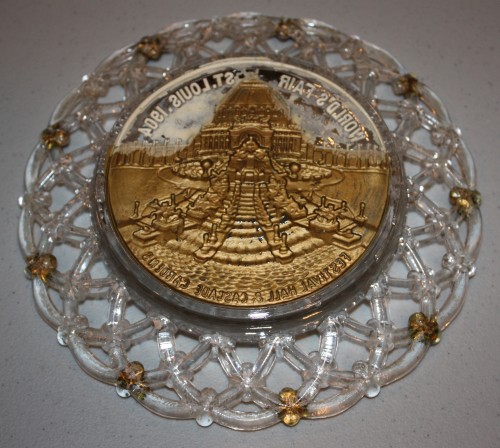 Many of the metal trays were finished to look like copper, which was very popular during the Arts & Crafts/Craftsman movement prevalent  during the early 1900s.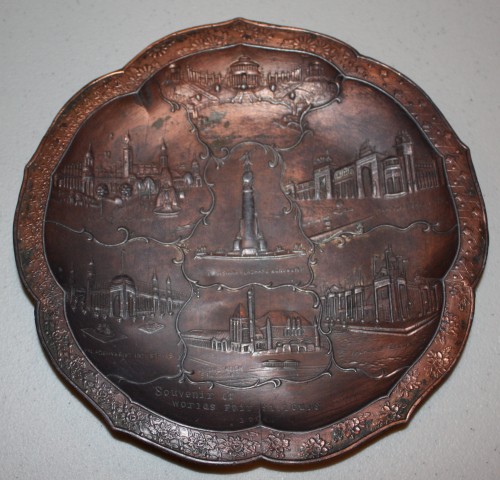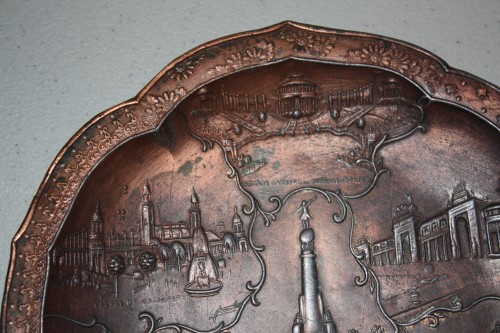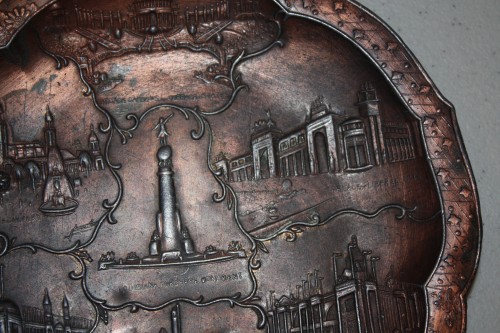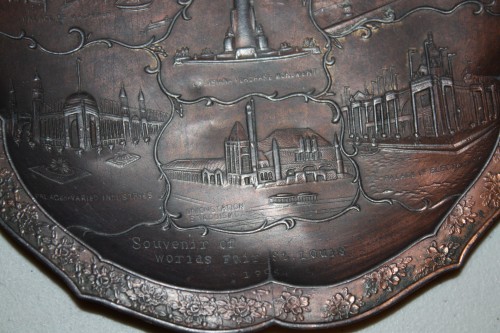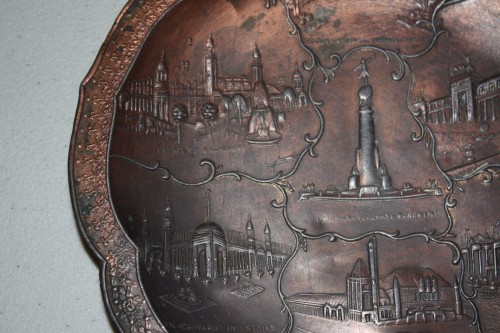 I hope that you have enjoyed this series that looks back to the souvenirs that our ancestors might have purchased during their trip to the 1904 St. Louis World's Fair. They would have enjoyed the memories of their time at the Fair for many years, reinforced by these objects that would have a place of honor in their home. Our ancestors were probably in awe of all the wonderful things they saw at the Fair that looked forward to the technology of the future- they would be amazed at how much farther our world has progressed, far beyond imagination!
Notes, Sources, and References: 
1) Goofus glass: https://en.wikipedia.org/wiki/Goofus_glass
2) Purchased artifacts, not our family heirlooms, in author's collection.
Please contact us if you would like higher resolution images. Click to enlarge images.
We would love to read your thoughts and comments about this post (see form below), and thank you for your time! All comments are moderated, however, due to the high intelligence and persistence of spammers/hackers who really should be putting their smarts to use for the public good instead of spamming our little blog.  
Original content copyright 2013-2015 by Heritage Ramblings Blog and pmm.
Family history is meant to be shared, but the original content of this site may NOT be used for any commercial purposes unless explicit written permission is received from both the blog owner and author. Blogs or websites with ads and/or any income-generating components are included under "commercial purposes," as are the large genealogy database websites. Sites that republish original HeritageRamblings.net content as their own are in violation of copyright as well, and use of full content is not permitted.
Descendants and researchers MAY download images and posts to share with their families, and use the information on their family trees or in family history books with a small number of reprints. Please make sure to credit and cite the information properly.
Please contact us if you have any questions about copyright of our blog material.