Those Places Thursday: Old Hopewell Cemetery and the Roberts-Salyers Family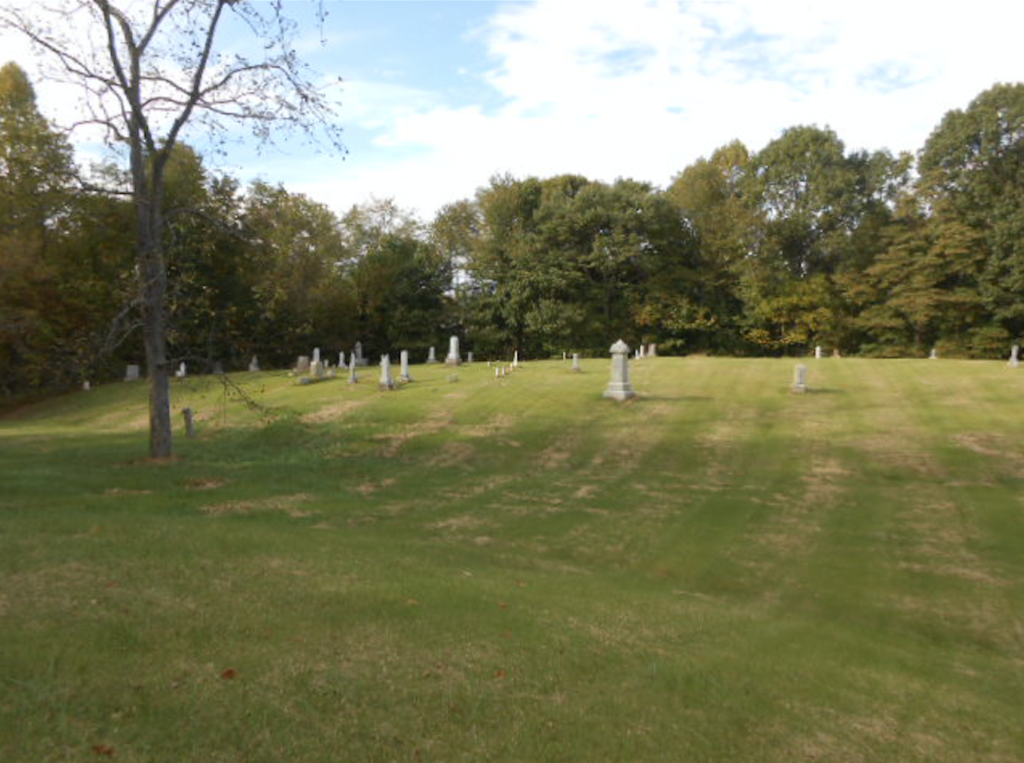 Roberts Family (Click for Family Tree)
Today's post is a double "Those Places"- first, the cemetery in Ripley Co., Indiana, and secondly, RootsWeb.
Let's start with RootsWeb. For those fairly new to genealogy, RootsWeb is a website that was one of the best places to find information back in the early days of computers and genealogy. It was a free site, with contributions by members that were lists of cemetery interments, boards for surnames and places, etc. Many people either do not know about it today, or forget that it is there, and search engines do not always find the posts or pages. Of course, the information there always needs to be verified, but sometimes there is old data on RootsWeb that cannot be found anywhere else, or info that is a great clue. Ancestry bought the website when it got too expensive to maintain by volunteers. It is still free for us to use, so please check RootsWeb.Ancestry.com in your research for people, places, and dates.
And I do so appreciate all the volunteer work that went into this site. Many of the folks are gone now but they were very dedicated to free dissemination of genealogical information. (Copyright is held by the person who contributed the information, but facts can be freely used in ways other than copying; make sure to cite your source.) Amazingly, some of the email addresses still work, so give it a try!
OK, now to our other place: Old Hopewell Cemetery in Ripley County, Indiana. The GPS coordinates for the cemetery are 390547N 0851751W, and it is 958 ft. above sea level.
Where this information came from is not noted on the webpage- was it from walking the cemetery and transcribing the stones, or from records kept by the cemetery, church, or other group? It is a secondary source, so errors may have crept in with transcription and publication. So, as always, this information needs to be verified with other sources. Find A Grave is a good resource to use in conjunction with the RootsWeb cemetery listings, but it too is not a primary source, and always needs verification. Of course, doing more research on Ancestry.com or FamilySearch.org for primary source records will help to place the interments in context.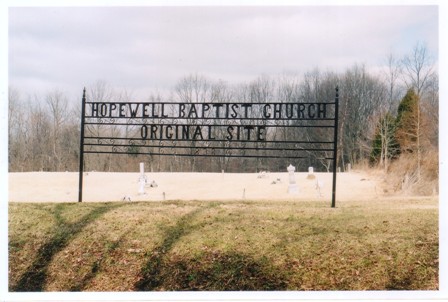 The cemetery is by the original site of the Hopewell Baptist Church, and that is consistent with what we know about the Roberts family as being Baptist while in Indiana. (They may have been Baptist previous to their migration, but we have no evidence thus far to prove that.)
There are some RAYBURNs buried in Old Hopewell, and the Rayburn family married into the Roberts family in Iowa, but that is not a line I have researched.
Sarah (McClure) ROBERTS is the first person of interest in the cemetery listing. No date is given for birth, but her death was 26 Feb 1872. She was the wife of Dr. J. Roberts (Dr. Jeremiah Roberts), and was aged 24 years, 3 months, and 8 days at her death.
Some of the Salyers family is also "quietly resting" in this cemetery. These folks are of interest because our direct ancestor was Jane (SALYERS/SAYLOR) ROBERTS (1806-1880), wife of John S. ROBERTS. We still have not done much research on the Salyers line, and there is still a question as to whether her father's name was Jeremiah Salyers or John B. Salyers. So we are not sure how these folks fit into the family, but this will be another line to research, and maybe we can verify the name of Jane's parents if we know her siblings or nieces and nephews. (Of course, these folks may be entirely unrelated, but have the same name- always a possibility.)
William L. Salyers, born 02 Oct 1851, no death date or inscription, appears to be the father of the family interred here.
His wife was Elizabeth __ Salyers, born 04 May 1856 and died 5 Feb 1918.
William's children were:
Mary Jane Salyers, born 18 Oct 1881 and died 28 Mar 1895, listed as daughter of William & Elizabeth. Mary Jane was  not even 14 years old at her death, and note the name of "Jane" being used.
We do not know the mother of these two children:
Ira Salyers, born 27 Jan 1884, died 16 Jan 1890, just before his sixth birthday. It is noted that he was the son of William.
R. L. Salyers has no birth date given but he died 06 Sep 1890 at just 1 month and 24 days.
Mary J. Salyers is noted as "Mother", and was born 1858 and died in 1938.  Noting her date of birth, she may have been William's unmarried sister (was her name possibly Mary Jane?), or his second wife- we do not know when he died, but his first wife Elizabeth passed away in 1918- or even his sister-in-law.
How sad that all three children buried here died at such young ages!
And more clues for more research… Please let us know if you have more information about any of these families.
Notes, Sources, and References: 
RootsWeb page for Old Hopewell Cemetery, Ripley County, Indiana– http://www.rootsweb.ancestry.com/~inripchs/old-hope.html
Old Hopewell Cemetery on Find A Grave– https://www.findagrave.com/cemetery/86250/old-hopewell-cemetery?
NOTE: The image of Sarah (Christie) Roberts was removed from this post on 8 Jan 2018 as Jeremiah's first wife was actually Sarah (McClure) Roberts. A big thank you to cousin Jon Roberts for catching this mistake!
NOTE: Rootsweb is currently down (9 Jan 2018) due to technical problems– please see http://www.rootsweb.ancestry.com.
Click to enlarge any image. Please contact us if you would like an image in higher resolution.
We would love to read your thoughts and comments about this post (see form below), and thank you for your time! All comments are moderated, however, due to the high intelligence and persistence of spammers/hackers who really should be putting their smarts to use for the public good instead of spamming our little blog.  
Original content copyright 2013-2017 by Heritage Ramblings Blog and pmm.
Family history is meant to be shared, but the original content of this site may NOT be used for any commercial purposes unless explicit written permission is received from both the blog owner and author. Blogs or websites with ads and/or any income-generating components are included under "commercial purposes," as are the large genealogy database websites. Sites that republish original HeritageRamblings.net content as their own are in violation of copyright as well, and use of full content is not permitted.
Descendants and researchers MAY download images and posts to share with their families, and use the information on their family trees or in family history books with a small number of reprints. Please make sure to credit and cite the information properly.
Please contact us if you have any questions about copyright or use of our blog material.
SaveSave
SaveSave
SaveSave
SaveSave
SaveSave
SaveSave
SaveSave
SaveSave
SaveSave
SaveSave
SaveSave