Tuesday's Tip: Context- The 1888 Presidential Election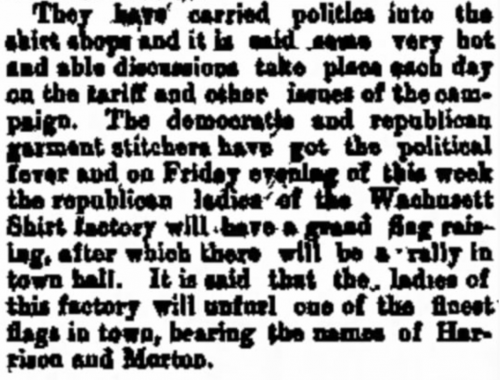 McMurray Family, Payne Family, Springsteen Family (Click for Family Trees)
Tuesday's Tip:
Look for the context of your ancestor's life-
from politics to clothing,
from community happenings to the style of their house.
Thankfully most family historians have moved away from being collectors of names and dates, and now want to tell the stories of their ancestors lives. Without detailed daily diaries or bundles of old letters, how do we learn about their lives? Newspapers are a great way to learn what was happening in a community, and an ancestor might be mentioned in a story or obituary. Also, browsing the pages around where one finds an ancestor article can help us to fill in the blanks about the little things in their lives- or even the big things.
Politics can be messy, as we all have experienced these last two years of this what seems to be a never-ending election. (In Great Britain, they only have a certain number of WEEKS they are allowed to campaign- that seems much more sensible.) Elections in our country's history have been just as bad, maybe even worse than this one, but learning about them will help us to understand our ancestors a bit more.
Edward B.Payne (1847-1923) and his wife, Nanie M. (Burnell) Payne (1847-1898), lived in Leominster, Massachusetts in 1888, the year of this article. Their only child, Lynette Payne (who later married William Elmer McMurray), was about to turn nine years old just eight days after this article was published. Rev. Payne was the pastor of the First Congregational Unitarian Church in Leominster. Further down this newspaper column about Leominster happenings was a report of the Porter-Davis wedding at which he officiated, but a few moments of browsing the paper turned up this nugget of context.
In 1888, the Democratic incumbent President, Grover Cleveland, desired a second term. The Republican nominee was Benjamin Harrison, and US tariffs were the biggest issue of the campaign. Tariffs are a tax on imported goods, paid by the importer, and until the Federal Income Tax began in 1913, tariffs were the main source of federal income- up to 95% of the total at times.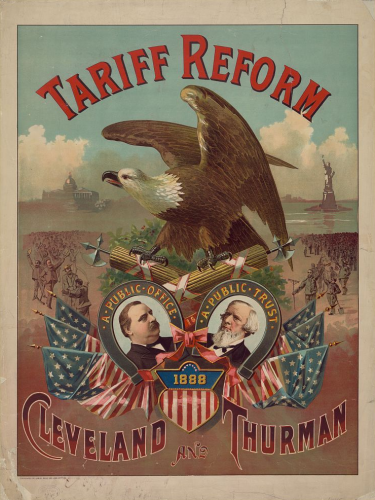 Since high tariffs, paid by foreign manufacturers and importers, provided income to our federal government, they reduced the need for taxes to be paid by our citizens. Sounds good- make the other country pay, right? Well, the bad part  is that U.S. tariffs make the cost of imported goods higher to the consumer in this country- the cost just gets passed through to the buyer, of course.
Tariffs that are high make domestic products more affordable than imports, and thus more desirable. Therefore those in U.S. industries, including factory workers, preferred high tariffs so that their own production had a lower comparative cost, and they could sell more. Our own citizens would be in high demand as workers, too.
Since the country was prospering and there were no wars going on in 1888, tariffs became THE issue. Grover Cleveland was adamant that high U.S. tariffs were hurting the consumer.  He knew that our citizens felt it every time that they bought an imported item, and it hurt their pocketbook. Cleveland thus proposed a large tariff reduction to Congress.
(But then would personal taxes go up? The money has to come from somewhere…)
Harrison, however, felt that high tariffs protected our workers and manufacturers.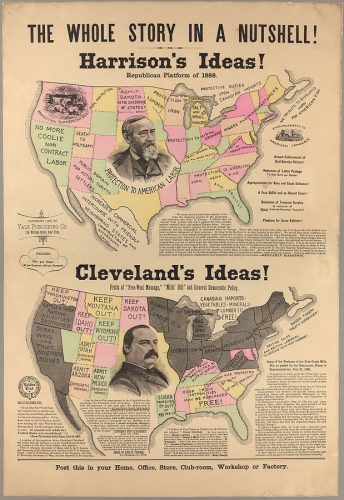 Benjamin Harrison was a Republican from Indiana, and he gave speeches from his front porch in Indianapolis- our Springsteen ancestors, such as Jefferson Springsteen and his son Abram Furman Springsteen, may have been a part of those crowds. The Springsteens were Democrats, so may have been part of the hecklers, although they may have had divided loyalties. Their party's man, President Cleveland, was against military pensions. Since Jeff had at least 2 sons who had served in the Civil War, one of which was Abram, the Springsteens may not have been so happy with Cleveland, either.
Back in Leominster, Massachusetts, where Edward B.Payne and family were living, the factory workers, as expected, were supporting Harrison with his views of keeping tariffs high. It is interesting that the shirt factory ladies were going to "unfurl one of the finest flags in town, bearing the names of Harrison and Morton." (Morton was the V.P. nominee.) Since women in most states could not legally vote in a Presidential election until 32 years later, it was one small way they could voice their political opinions and help influence the outcome.
Rev. Payne was a Christian Socialist in his later years, and surely, with his devotion to the poor, he exemplified that philosophy even earlier in life. He most likely would have favored a candidate who had the middle and lower classes in mind. (Later in California, he registered as a Socialist; we have found no other documentation of his political leanings.) He worked quite a lot with factory workers though, so he too may have had a difficult time deciding between candidates when he was ready to cast his ballot in the Cleveland-Harrison contest. Although just 41 years old in 1888, he also was a Civil War veteran, thus probably liked the idea of a military pension in his future- after all, preachers really do not make very much income.
In 1888, America still was one of the biggest manufacturers in the world, and the costs for our products were among the lowest in the world. So the tariff issue may not have been of such importance after all, but it was the loudest of the campaign.
Harrison carried Indiana as well as Massachusetts, and received the majority of  electoral votes. Cleveland, however, received the majority of the popular votes. It was a close election, but as one of only four elections when the popular vote did not match the Electoral College vote, the Republican Benjamin Harrison became the next President of the United States.
The context of our ancestor's lives in 1888 included tariffs; today, ours include trade agreements, which can affect prices and demand in similar ways.
Our ancestors needed to educate themselves well before they voted, just as we need to do today.
Notes, Sources, and References: 
1. Image sources per captions.
2. "United States Presidential Election, 1888," Wikipedia, https://en.wikipedia.org/wiki/United_States_presidential_election,_1888
Click to enlarge any image. Please contact us if you would like an image in higher resolution.
We would love to read your thoughts and comments about this post (see form below), and thank you for your time! All comments are moderated, however, due to the high intelligence and persistence of spammers/hackers who really should be putting their smarts to use for the public good instead of spamming our little blog.  
Original content copyright 2013-2016 by Heritage Ramblings Blog and pmm.
Family history is meant to be shared, but the original content of this site may NOT be used for any commercial purposes unless explicit written permission is received from both the blog owner and author. Blogs or websites with ads and/or any income-generating components are included under "commercial purposes," as are the large genealogy database websites. Sites that republish original HeritageRamblings.net content as their own are in violation of copyright as well, and use of full content is not permitted.
Descendants and researchers MAY download images and posts to share with their families, and use the information on their family trees or in family history books with a small number of reprints. Please make sure to credit and cite the information properly.
Please contact us if you have any questions about copyright or use of our blog material.