Treasure Chest Thursday: G.W. Helbling and Anna May Beerbower Art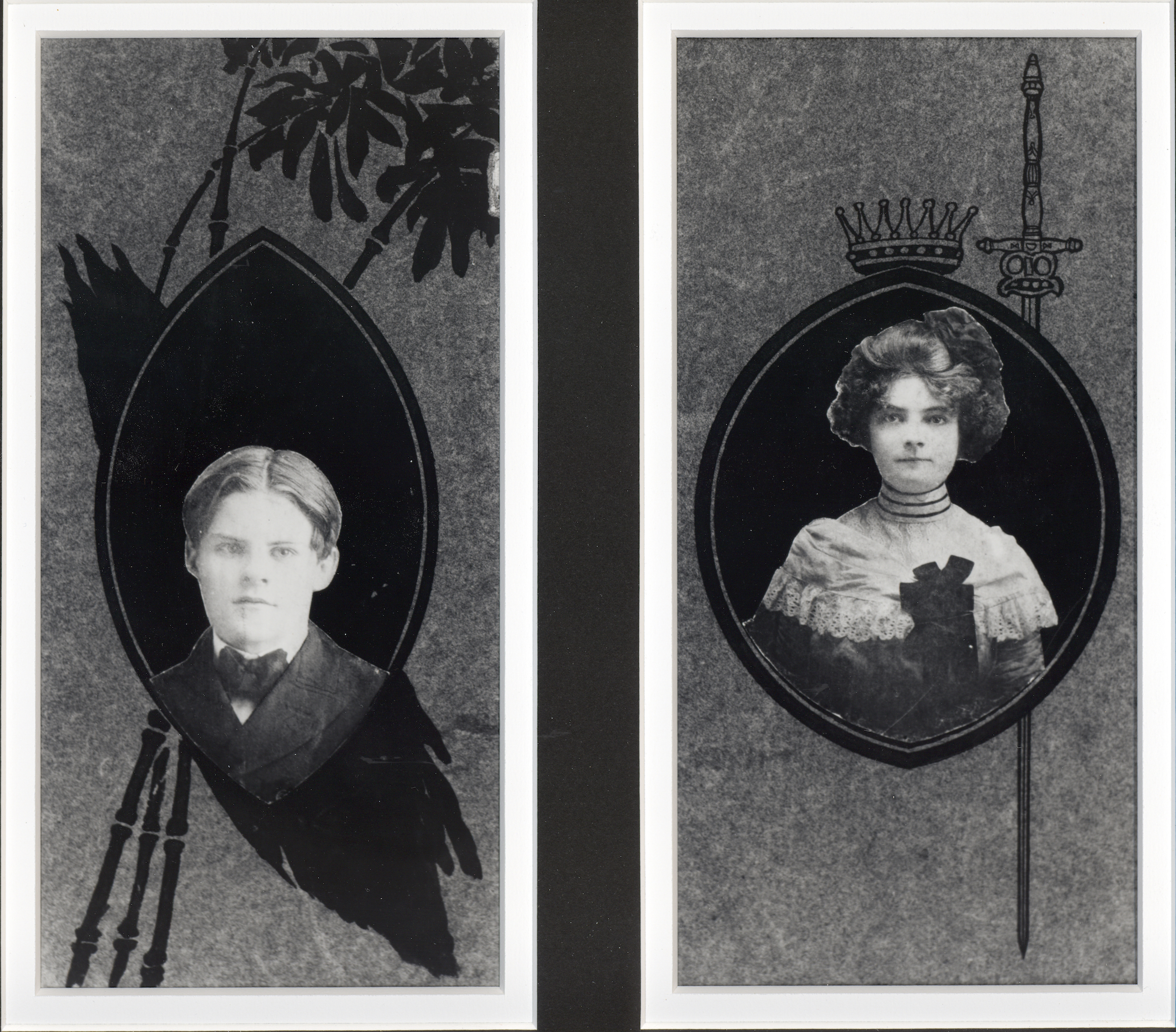 Helbling Family, Beerbower Family (Click for Family Tree)
This has been a challenging year and sadly the blog has been one of the (many) things pushed to the bottom of the list- so sorry. Hopefully now there will be some time for writing and posting, as there are so many stories and wonderful artifacts to share!
The above images are on dark gray cardstock, likely ink and paint for the backgrounds and the images cut from photographs. Gerard William, or "G.W." Helbling, was an accomplished artist, silk screen sign painter, and even an undertaker (that takes artistic and esthetic skills).
G.W. was born in 1882 in St. Louis, Missouri, most likely, and Ann May Beerbower, the love of his life, was born in 1881 in Indianapolis, Indiana. Since we do not have the 1890 census, it is more challenging to determine when GW and May might have met. Anna's mother (Anna Missouri (Springsteen) Beerbower) was listed in the 1897 Indianapolis City Directory with her sons Edgar and Robert, and possibly daughter Anna May lived there as well- she likely would not have been listed, as she was only 16 at the time. Anna Missouri was listed as a widow, however she was actually divorced from her husband Edgar Peter Beerbower. (They would later remarry.) By 1900 Anna (Missouri) was living in St. Louis, where she was enumerated as living with her 23 year-old son Edgar S., and 18 year-old daughter "May."
G.W. Helbling was born in St. Louis, Missouri, and his parents resided there between 1890-1900 per city directories and censuses. It is likely that the two met in St. Louis, after Anna moved there sometime between 1897 and 1900. They married on 24 November 1904, when Anna was 23, G.W. 22.
Their daughter, Mary Theresa (Helbling) McMurray, thought that he had created this art sometime in their early years together. Using pictures from when they were young teens- or maybe younger?- he painted the backgrounds first, then cut out the photos and glued them on. He was the "wild man" and she his "queen."
The couple had almost fifty years together of their love story, but Anna died on November 9, 1954; their 50th anniversary would have been on the 24th. Their love story lives on in the sweet artifacts they left behind, and in the legacy of their children.
Notes, Sources, and References: 
Family treasure chest of photos and artifacts.
City directories and censuses.
Click to enlarge any image. Please contact us if you would like an image in higher resolution.
We would love to read your thoughts and comments about this post (see form below), and thank you for your time! All comments are moderated, however, due to the high intelligence and persistence of spammers/hackers who really should be putting their smarts to use for the public good instead of spamming our little blog.  
Original content copyright 2013-2017 by Heritage Ramblings Blog and pmm.
Family history is meant to be shared, but the original content of this site may NOT be used for any commercial purposes unless explicit written permission is received from both the blog owner and author. Blogs or websites with ads and/or any income-generating components are included under "commercial purposes," as are the large genealogy database websites. Sites that republish original HeritageRamblings.net content as their own are in violation of copyright as well, and use of full content is not permitted.
Descendants and researchers MAY download images and posts to share with their families, and use the information on their family trees or in family history books with a small number of reprints. Please make sure to credit and cite the information properly.
Please contact us if you have any questions about copyright or use of our blog material.
SaveSave
SaveSave