Military Monday: James Edward Murrell, Illinois 11th, Co. I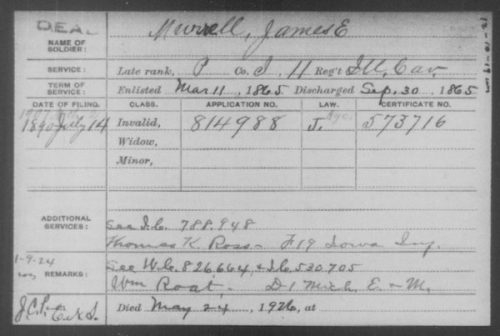 Murrell Family, Roberts Family (Click for Family Tree)
We last left James Edward Murrell in 1860. In June he was in Warren County, Illinois, on the family farm. By 7 September of that year, he was listed in the Wright County, Missouri US Federal Census, along with his older brother, William Anderson Murrell; both were listed as farm laborers. Traveling groups of farm laborers went from town to town during the harvest months back then (similar to today's migrant workers, plus there are harvesting companies that migrate through the midwest in the fall along with their huge combines today), and groups would even go out of state. Since Wright County was about 350 miles from their family home in Illinois, the boys probably thought the trip would be their great adventure.
Soon, however, another 'adventure' would eclipse anything they had ever experienced, and anything they could have imagined.
The next year, 1861, William answered the call of President Abraham Lincoln and that of his country, and he enlisted in the Union Army. (See previous posts for more information about his service.) Likely the two young men had gone back to Illinois by then, as William enlisted in the 83rd Illinois, Co. H. (Whole counties would send their young men together to fight in this war, and sometimes only a few would return.) We are not sure where James was in 1861, although newspaper articles for Warren County might give us some details if we could find them.
James was just about 18 then, and may have stayed at home, helping his father on the family farm. The Civil War dragged on longer than either side had ever anticipated, and the losses on both sides were staggering. The family would have been very worried about William still serving in the Civil War, too.
The year 1865 began with our country still divided and at war. Congress approved the 13th Amendment (to abolish slavery forever in our country) on 31 January 1865, sending this change to our Constitution to the states for ratification. Just three days later, President Lincoln met with the Confederate Vice President, Alexander Stephens, with brokering peace the objective. The meeting failed to find a compromise, however, and the war continued. The Union had won significant victories, and the Confederate forces were quite outnumbered by that point– they only held two major areas of the south. The end was getting near.
On 4 March, President Lincoln was inaugurated for a second term. He was tired. Our nation was tired. But Lincoln, excellent and inspiring orator that he was, said,
"With malice toward none; with charity for all…let us strive on to finish the work we are in…to do all which may achieve and cherish a just, and a lasting peace, among ourselves, and with all nations."
Hearing these words (via telegraph and newspapers) may have been the inspiration for 22-year-old James Edward Murrell to enlist in the Illinois Cavalry just seven days later (11 March). He joined Regiment 11, Company I in Monmouth, Illinois, as a private, and probably got on a train headed south to join the whole regiment. The war was coming to a close, and the next month, Gen. Robert E. surrendered. Amid the Union celebrations, the President was shot just five days later at Ford's Theatre in Washington, D.C.; Lincoln died the next morning.
The regiment James joined had mustered in originally in 1861, and some units had seen a few of the war's most important, toughest, and/or most brutal battles and conditions, including Corinth, Vicksburg, and marching with Gen. Sherman through Mississippi. Most of the Regiment's time had been spent on the 'Western' front, in Tennessee, Mississippi, and Arkansas. Many historians feel that the war was really won at this front, since the army that controlled this area and the mighty Mississippi River also controlled supplies, transportation, and troop movements into and out of the South.
From January of 1865 until September, the 11th Regiment had duty on the Memphis and Charleston Railroad, between Memphis and Grand Junction, Tennessee. Their headquarters were in LaGrange, Tennessee, and that likely was where James arrived to meet his unit. It was of utmost importance for the Union to maintain control of those local assets and areas. James, as a private, probably served as a guard and would have patrolled the rails, keeping them safe from sabotage by rebels and guerrillas. Skirmishes may have occurred with rebels on any day, and blue and gray soldiers would have taunted each other across a creek or open field, or taken a potshot just for effect. The regiment completed an expedition to Brownsville, Mississippi from Memphis on 23-26 April 1865.  It will take deeper research to determine more about James' unit while he was a part of it, so that we can know exactly what actions he was involved in, and when- his full pension application may have more details.
In May of 1865, the Union was reunited after the remaining Confederate forces surrendered. Moving Union troops and supplies back to their home states became the goal of the armies, and the railways that were still in service were crucial to this task, as were the steamships on the rivers. The transition from war and slavery was a difficult one for the South, and the Union Army was used to keep order at times, though again, we do not know if James E. Murrell was a part of that. His unit was mustered out on 30 September 1865, from Memphis, Tennessee. The above pension index card states that James was discharged by "s.o. 21," probably 'Special Order 21' though we have been unable to determine what that was.
The Illinois 11th headed to Springfield, Illinois on 2 October 1865. By the 20th the unit had been paid and officially discharged, and the victorious Illinois troops could return to their homes and loved ones.
The six and a half months that James spent as a Union soldier in the Civil War was most probably the greatest adventure of his life. Although he did not fight as long as his older brother William Anderson Murrell did, James helped to keep the assets the Union held safe through the very end of the war. His service was also rewarded with a pension in later years, and he lived in the Old Soldier's Home or 'national Military Home' in Leavenworth, Kansas for a number of years.
More to come about the rest of the life of James Edward Murrell.
Notes, Sources, and References: 
We would love to read your thoughts and comments about this post (see form below), and thank you for your time! All comments are moderated, however, due to the high intelligence and persistence of spammers/hackers who really should be putting their smarts to use for the public good instead of spamming our little blog.  
Original content copyright 2013-2017 by Heritage Ramblings Blog and pmm.
Family history is meant to be shared, but the original content of this site may NOT be used for any commercial purposes unless explicit written permission is received from both the blog owner and author. Blogs or websites with ads and/or any income-generating components are included under "commercial purposes," as are the large genealogy database websites. Sites that republish original HeritageRamblings.net content as their own are in violation of copyright as well, and use of full content is not permitted.
Descendants and researchers MAY download images and posts to share with their families, and use the information on their family trees or in family history books with a small number of reprints. Please make sure to credit and cite the information properly.
Please contact us if you have any questions about copyright or use of our blog material.