Census Sunday: James Edward Murrell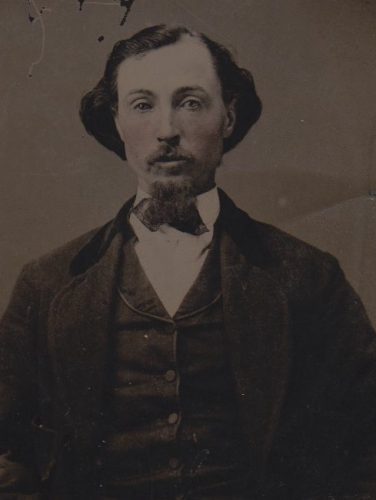 Roberts Family, Murrell Family (Click for Family Tree)
James Edward Murrell was the fifth of six children born to Wiley Anderson Murrell (1806-1885) and Mary Magdalene (Honts) Murrell (1806-1887). He was the youngest brother of our ancestor Elizabeth Ann (Murrell) Roberts.
James was born on 15 November 1842 in Botetourt County, Virginia, like the rest of his siblings.  We can use the US Federal Census to follow his travels through his lifetime, and those censuses provide us some interesting information.

James was listed in the 1850 US Federal Census, living with his parents and siblings in District 8, Botetourt County, Virginia. In 1853 at age 11, he most likely made the trip with his family to Warren County, Illinois, walking the 175 miles alongside their covered wagon. Wonder what adventures he imagined or lived, and what treasures- rocks, feathers, broken wagon parts, bone, or ?? ended up in his boy's pockets?


At the US Federal Census taken on 19 June 1860, James was in Swan Twp., Warren Co., Illinois, as expected, and attending school. He would have been 14 or 17 (depending on birth year which varies), so he may have been in high school- unusual for farm boys in those days.

The 1860 census for Wright County, Missouri, however, also lists a William Murrell, age 16, and a James Murrell, age 14, working for the Starling Casey family as farm laborers. This census was taken on 7 September, later than the Warren County census. These laborers were probably our Murrell uncles, as young men often traveled to find work, and it was harvest time so work would have been plentiful. Adding to the evidence that these two are indeed our uncles is that the two names are the brothers of Elizabeth (although they are common names), the age difference is approximately correct, the person responding to the census taker did not know the birthplace of either young man, and also the fact that James later settled in Missouri.
Here is where a bit of history helps us understand their life choices. The country continued to divide in the early 1860s over the issues of slavery and states' rights. Missouri was a hotbed for both sides at that time. Wright County is in the southern part of Missouri, which was admitted to the Union as a slave state with the Missouri Compromise of 1820. The "Compromise" was that Maine was admitted as a free state to maintain balance, and a boundary line was drawn across the Louisiana Purchase to divide slave and non-slave areas for the future. The Kansas-Nebraska Act of 1854 negated the Compromise, allowing new states to decide whether or not to allow slavery. This Act further increased the tensions, to the extent of raids, murder, lynchings, coercion, gangs, etc. in the midwest, and especially Kansas and Missouri. Then the Dred Scott Decision of 1857, which was handed down at the Old Courthouse in St. Louis, Missouri (where the last slave auction on the courthouse steps took place in 1861) redefined the status of slaves. The decision stated that Africans had no right to citizenship in the United States, and that allowing Dred Scott to have his freedom (and his wife and children theirs) was a legislative overreach of Congress by denying personal property rights to slave owners. (Dred Scott remained a slave until his owners gave him his freedom later that year, but he died the following year, in 1858. He was buried in Calvary Cemetery in St. Louis, where some of our Helbling ancestors are also buried.)
So had William and James gone to Missouri sometime between June and September, when the two censuses were taken, and then been enumerated in both? The census was supposed to include "every person whose usual place of abode on the 1st day of June, 1860, was in this family." So were they already gone to Missouri and the Murrells listed them at home in Illinois, or did the Casey family or enumerator in Missouri not understand and asked who was living in the home on the day in September that the census was counted? No one should have been counted twice, but people who moved often were, as is likely in this instance.
It would be interesting to know how long these two young men were in southern Missouri, which was very pro-slavery in those years. How did they feel coming from a northern community, where the majority was primarily anti-slavery? What did they see or experience themselves in the fields? We have already discussed that the Murrell family may have migrated to Illinois from Virginia to escape the looming Civil War- was it for a belief that abolition was necessary, as well as the safety the family, their land, and possessions? Whatever the case, we have already shown that William Anderson Murrell was motivated to join the Union cause in 1862, and his little brother James Edward Murrell followed in his footsteps and did the same in 1865. It is possible that this time in Missouri led to those choices.
More to come about the Civil War service of James Edward Murrell, and where he was in the following census years.
Notes, Sources, and References: 
Image kindly shared by cousin Diane.
1860 census instructions– https://www.census.gov/history/pdf/1860instructions.pdf
"What's in a Name?- Underground Railroad"–http://kwqc.com/2017/02/09/whats-in-a-name-underground-railroad/
US Federal Census records as described found on Ancestry.com and FamilySearch.org.
Click to enlarge any image. Please contact us if you would like an image in higher resolution.
We would love to read your thoughts and comments about this post (see form below), and thank you for your time! All comments are moderated, however, due to the high intelligence and persistence of spammers/hackers who really should be putting their smarts to use for the public good instead of spamming our little blog.  
Original content copyright 2013-2017 by Heritage Ramblings Blog and pmm.
Family history is meant to be shared, but the original content of this site may NOT be used for any commercial purposes unless explicit written permission is received from both the blog owner and author. Blogs or websites with ads and/or any income-generating components are included under "commercial purposes," as are the large genealogy database websites. Sites that republish original HeritageRamblings.net content as their own are in violation of copyright as well, and use of full content is not permitted.
Descendants and researchers MAY download images and posts to share with their families, and use the information on their family trees or in family history books with a small number of reprints. Please make sure to credit and cite the information properly.
Please contact us if you have any questions about copyright or use of our blog material.