Thankful Thursday: #My Colorful Ancestry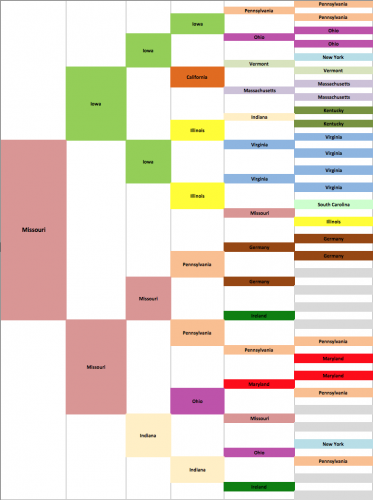 McMurray Family, Helbling Family (Click for Family Trees)
Sometimes it seems I am 'wasting' time by reading so much on the internet, but one can learn fantastic things. There are also fantastic people who share their fantastic ideas with the world via the internet, and for that I am so thankful- not only on Thankful Thursday.
Today, gratitude goes to J. Paul Hawthorne, who posted "A Little Thing That Went Viral… #MyColorfulAncestry" on his blog, "GeneaSpy."  Of course, I am behind the times as it went viral last March, but that is what happens when one lives with one foot in the present, and the other back in the 1700s, 1800s, etc.
The above chart is for the children of Edward A. McMurray, Jr. and Mary Theresa (Helbling) McMurray.
Note how color-coding the Excel cells helps to show migration of a family.
Grayed cells are unknown birthplaces, although they most likely were in the same country as where the more recent generation was born, such as Germany or Ireland.
Follow the links on J. Paul's blog for templates to use, as a number of other genealogy bloggers have added generations. I do recommend that one clear the cells of text, or use all caps when inputting your own ancestor's birthplaces. When all the words are in the cells, then go back and change colors so that each state and country are different.
The chart also follows the genealogical convention of an Ahnentafel chart, with the father's name on top, mother's below. So the largest bright green box for Iowa is for Edward A. McMurray, Jr., and the largest rose-colored box for Missouri would be the birthplace of Mary (Helbling) McMurray. Mary's father, William Gerard Helbling, was born in Missouri, so is represented to the right, with the lower box being for her mother, Anna May (Beerbower) Helbling, who was born in Indiana. Take a look at the associated family trees for names and details.
Notes, Sources, and References: 
"A Little Thing That Went Viral… #MyColorfulAncestry" by J. Paul Hawthorne in his blog, "GeneaSpy." http://www.geneaspy.com/2016/03/a-little-thing-that-went-viral.html. Thanks to J. Paul for sharing such a cool idea!
There are many excellent versions of this chart found throughout genea-blogland.
Excel is an excellent tool for timelines, one-name or one-place study, data analysis, etc. Many videos and webinars are available online and information is available on FaceBook and genealogy blogs as to how to use Excel as more than just a numbers-cruncher.
Make sure that you note the problem with dates in Excel- it only recognizes those that go back to 1900! So all my dates are in three columns in Excel- one each for day, month, and four-digit year. The months can be listed as numbers for easy sorting, or Excel has a function that allows you to tell it to sort by month order. See Teresa Keogh's Excel videos, especially, "Example 7 – The Date Issue in Excel" at   https://www.youtube.com/watch?v=4hj6FS2QViI
Click to enlarge any image. Please contact us if you would like an image in higher resolution.
We would love to read your thoughts and comments about this post (see form below), and thank you for your time! All comments are moderated, however, due to the high intelligence and persistence of spammers/hackers who really should be putting their smarts to use for the public good instead of spamming our little blog.  
Original content copyright 2013-2016 by Heritage Ramblings Blog and pmm.
Family history is meant to be shared, but the original content of this site may NOT be used for any commercial purposes unless explicit written permission is received from both the blog owner and author. Blogs or websites with ads and/or any income-generating components are included under "commercial purposes," as are the large genealogy database websites. Sites that republish original HeritageRamblings.net content as their own are in violation of copyright as well, and use of full content is not permitted.
Descendants and researchers MAY download images and posts to share with their families, and use the information on their family trees or in family history books with a small number of reprints. Please make sure to credit and cite the information properly.
Please contact us if you have any questions about copyright or use of our blog material.