Treasure Chest Thursday: 1863 Income Taxes of Abel (Abram?) Springsteen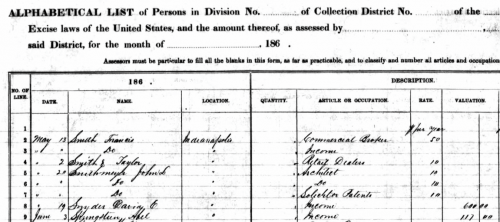 Springsteen Family (Click for Family Tree)
On 3 June 1863, during the Civil War, "Abel Springsteen" was assessed taxes on income of $117 in Indianapolis, Indiana. This was recorded on a form for excise taxes, although detailed information is not written in at the top. The rate he was taxed was 3%, and the assessment was considered to be in Class A, which was apparently ad valorem duty. (Today many citizens pay ad valorem taxes on their vehicles.)

The total tax liability on income of $117.00 was $5.31!
In today's dollars, that would be $2,137.58 in income, and $97.01 for taxes.
But their math is confusing, as 3% of $117.00 is actually $3.51. The tax paid was about 4.5%, if he really did pay the listed amount.
Wonder if the 3 and the 5 were just transposed when written in the list? Would Abel/Abraham have just paid the higher amount, or contested it? He didn't have a lot of income compared to others on the same list, so he probably needed to save every penny he could; hopefully he paid the lesser amount.
And just who is "Abel Springsteen"? That name has not come up in other Indianapolis searches, so it might actually be "Abram" or "Abraham" Springsteen. Abram Furman Springsteen, "the youngest drummer boy" of the Civil War has been mentioned quite frequently in this blog, but would have been just 13 in 1863. So it is probably his uncle Abraham, who was born in 1824 in New York and arrived in Indianapolis by 1860. This Abraham was a master brick mason, and we know he was working in Indianapolis as a mason at the time of this tax. More to come about Abraham and his business, and that too has to do with taxes.
Notes, Sources, and References: 
U.S. IRS Tax Assessment Lists, 1862-1918. Ancestry.com Online publication, Provo, UT, USA. Original data – National Archives (NARA) microfilm series: M603, M754-M771, M773-M777, M779-M780, M782, M784, M787-M789, M791-M793, M795, M1631, M1775-M1776, T227, T1208-T1209.
Inflation calculator that actually includes to present day, not just 2013- http://www.in2013dollars.com
Please contact us if you would like higher resolution images. Click to enlarge images.
We would love to read your thoughts and comments about this post (see form below), and thank you for your time! All comments are moderated, however, due to the high intelligence and persistence of spammers/hackers who really should be putting their smarts to use for the public good instead of spamming our little blog.  
Original content copyright 2013-2016 by Heritage Ramblings Blog and pmm.
Family history is meant to be shared, but the original content of this site may NOT be used for any commercial purposes unless explicit written permission is received from both the blog owner and author. Blogs or websites with ads and/or any income-generating components are included under "commercial purposes," as are the large genealogy database websites. Sites that republish original HeritageRamblings.net content as their own are in violation of copyright as well, and use of full content is not permitted.
Descendants and researchers MAY download images and posts to share with their families, and use the information on their family trees or in family history books with a small number of reprints. Please make sure to credit and cite the information properly.
Please contact us if you have any questions about copyright or use of our blog material.